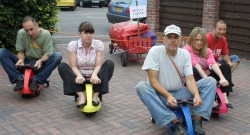 Please help a fellow member win a Mercedes Van (and raise the profile of our industry)
My dad and I have entered a competition to win a new Mercedes van. We had to send in a picture with a caption to say why the van would help our business or life style.
We sent in the picture attached of me and four of my family towing a bouncing castle on Didicars. We have now made the final 7 and now need online votes, the most votes wins the van. We are hoping that our fellow BIHA members will cast an online vote for us, we are the only one's representing a Bouncy Castle hire business.
If we win it would hopefully raise the profile of the UK bouncy castle industry - in turn helping every one. So your help would be massively appreciated.
To cast an online vote you need a Facebook account and pop-ups enabled. Voting closes on Friday 7th October.
The link to vote is: www.madeforthepeople.com/?page=voting
You then need to click on VOTE NOW, (wait for the page to load) then click on 'look at the 7 finalists click here,' now you can click our picture (top left, you will then be able to read our caption poem). Then click on VOTE FOR THIS.
Hoping for BIHA members support.
Many thanks
Dave Clark King of the Castles.