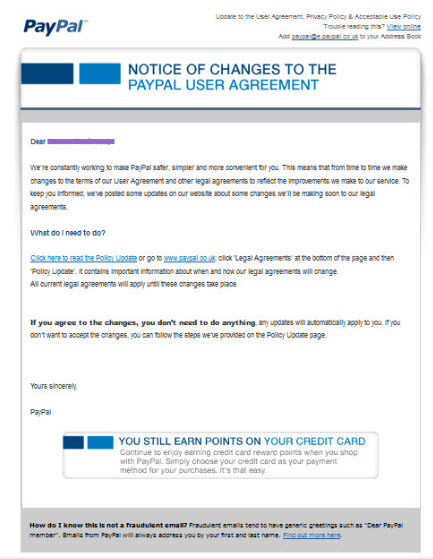 Hi everyone... The scammers are at it again (May 2012).
If you receive an email from PayPal informing you that there has been an update to your terms and conditions. (which there has been by the way). To be safe, do NOT log into your paypal account using a link supplied in an email. It's far better to type www.paypal.com directly into you Internet brower's address bar manually to log into your site and read through the new Terms and Conditions.
Above is a scanned copy of a HOAX email. Clicking the link would no doubt take me to a replica website that looks like PayPal, however if I entered my PayPal email address and password into THIS FAKE site, the scammers would end up with my REAL PayPal username and password which is directly linked to my bank account and credit card. They would have a field day....
So... If you receive an email like this one. Never trust it to be from who they claim it to be from.
Best regards
Mark
BIHA / BCO