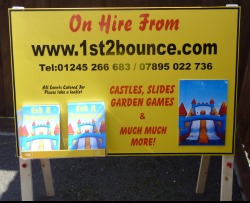 Many hire companies hand out promotional flyers (leaflets) at parties in the hope of getting more bookings from parents attending the party who see the inflatable and want to book it for their event.
The problem with flyers is that you are relying on someone (e.g. the party host) to hand them out to parents and/or the children. The host may have every intention of distributing them, butall too often just does not have the time to do so.
Fortunately, many bouncy castles have the owner's phone number clearly written across the top or along the bottom. But unfortunately, parents may not have pen or paper to hand to write down the number - or may just forget to do it.
Is there a way to combine both ideas so that parents can not only see the contact phone number of the company supplying the castle but also take a leaflet if they want one?
Well, yes there is. It is a simple but highly effective idea. It is an A-frame board (see pic above) which is decorated with your company logo, colours and contact number etc. You can attach leaflets to it. You then place the A-frame board alongside the inflatable (not too close to cause a hazard though!) and get more bookings and referrals from every job you do.
If you are good at carpentry, you will have no problems making one. If you are not - then contaact a local handyman. DIY expert or carpenter, and they should be able to make you one for just a few pounds.
These A-frame boards represent an excellent investment for your hire business. Simple but highly effective!
If you action this brilliant idea - please email a photo of it to me at mark@biha.org.uk and I will publish it on this site - Thanks.