| | |
| --- | --- |
| home | Stolen Disco Dome - BIRMINGHAM 4-Jun . . . | |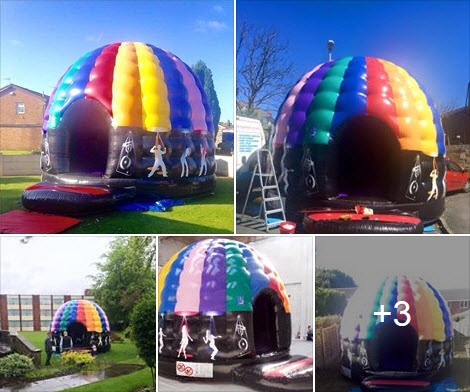 Stolen Disco Dome - BIRMINGHAM 4-June 2016.
***STOLEN DISCO DOME BOUNCY CASTLE***
This was posted on the BIHA Facebook Group earlier today. See: www.facebook.com/groups/biha4u 

PLEASE SHARE
Some scumbags have stolen my disco dome with Ibiza speaker, blwer, 2 jelly beem light, lead the lot today from
74 Pineapple Road, Stirchley, Birmingham, B302TL, West midlands.
Please be on the look out. What makes this distinctive is its purple inside the dome, believe theres no others with it. It's PIPA tagged, number is 29751 which is on the front of the dome. Serial number PA731.
These scum of the earth have clearly posed as new owners of the house, driving an old silver Renault megane. The so called thief is about white 6ft male, in early 30's, dark blond shaved hair, stocky, dressed chavy with tracksuit. Was with a girl about the same age, white, skinny, chavvy, dark brown hair, sure she had piercing on face. Just for any other castle companies out there that they WILL target.
Neighbours said a white medium van, looked battered and had a large crack on front screen come along and took it.
This isnt the first time they have done this and believe they will get someone else. I asked for ID as proof of address, but fell for the sob story of we have just moved in. I work so hard to have these pieces of shit do this.
Please help with any info.the police have been called. Inbox, call 0781422362. I'm truly devastated. Thank you