| | |
| --- | --- |
| home | To many inflatable hire companies we . . . | |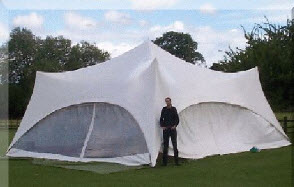 To many inflatable hire companies wet weather can be a major problem and income can be reduced...BUT if you "plan" for wet weather (and use some creativity and "tricks of the trade") then you can keep your income high and even increase it during wet weather..Here's how...
When I was a full-time inflatable hirer (1992 - 2006) I deliberately "planned" for bad weather and invested quite heavily in equipment that was in high demand when it was raining. Examples are very small bouncy castles (e.g. I had a range that were 6ft x 6ft, 7ft x 7ft and 8ft x 8ft that could easily go in someone's living room when it was heavy rain. OK - the older kids were not at all impressed, but the younger ones loved it because they had it to themselves, and number of users was naturally restricted.
In addition, these very small bouncers could double up as ballponds. Also, none of my competitors had castles of this size.
More times than I care to remember, these tiny castles stopped the party from being cancelled due to inclement weather.
Another example is mini-marquees and full-sized marquees (20ft x 20ft and above) See pic to the right.
It goes without saying that when it's raining (or threatening to rain) then anyone organising an outdoor event will seriously consider hiring a marquee. They can be an excellent money-earner when its raining.
Third example: I also invested in other non-inflatable hire items (e.g. Garden games, tables and chairs etc.) which could be used indoors (and in halls) when it was raining.
IMHO, the best thing to do when it's raining is to contact customers and try and rescue the booking by suggesting to the customer that they hire a community hall or similar (if they haven't already done so).
Some operators have a comprehensive list of halls on their website which their customers can look at as soon as the weather is looking dicey.
I also maintained a good relationship with several caretakers of halls and many a time I was able to call in a favour and get a hall cheap, and last minute for one of my customers. Sometimes, the main hall was booked, but smaller side halls were available in an "emergency".
Interestingly, when the weather was very wet, my takings sometimes stayed the same (or sometimes more) because I hired out more mini-marquees and standard size marquees (which had a higher rental fee than inflatables).
The real enemy of my hire business was not really the rain, it was high winds, because then neither inflatables nor marquees could be used outdoors.