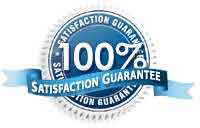 Our Guarantee
Our guarantee is as strong as we can make it.
We guarantee the quality of the information you will find here. But we cannot guarantee your success. That's your responsibility! We feel certain the information and resources provided through your membership to BouncyCastleOwner.com can help you build a very successful bouncy castle/inflatable rental business.
However, you are ultimately responsible for your own success. For this reason, we can only guarantee the quality of our information and resources. We can't guarantee your performance or your success.
Please don't join BouncyCastleOwner.com if you are expecting a "get-rich-quick" scheme, or an effortless business opportunity, or magical chants that will make money fall from the sky!
Running a bouncy castle rental business can require physical work, especially at the weekends! It holds the promise of high financial rewards for those who devote time and energy into making their rental business a success.
Membership Refund Policy
If you join BouncyCastleOwner.com and subsequently want to cancel, and you can tell us in good conscience that BouncyCastleOwner.com did not provide content of sufficient quality or quantity, we'll refund your money, so long as it is within 30 days of membership enrolment.
Furthermore, if you're not sure if you're going to remain a member of our site, then we advise that you do not join for the one-year membership plan - sign up for the monthly recurring plan (£3.95). If you decide that it's not for you, then you can cancel at any time and still have full use of the site for the full month you paid for.
BouncyCastleOwner.com can't guarantee your success.
We do guarantee that if you join BouncyCastleOwner.com and never apply what you've learned, if you don't read the articles on the website, never participate in the online discussion forum, and never download the multi-media resources and tools etc, it is likely you won't become more successful in your bouncy castle rental business.
The BouncyCastleOwner.com subscription fees (either £3.95 per month or £37 per year) should be fully deductible as a business expense. Check with your tax consultant or accountant for advice on this issue.
Product Refund Policy
Many products are covered by our full no quibble 30 day money-back guarantee. Your statutory right are unaffected. However please note some downloadable products are not covered under this guarantee as shoppers receive instant access to downloadable products immediately after purchasing. If you are unsure about whether a particular product has an extended guarantee or not, please contact us before purchasing.