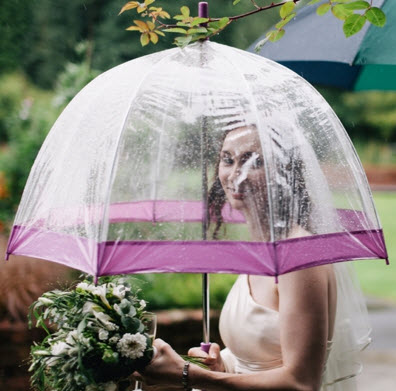 I'm writing this early on Saturday morning (24-5-2014) in the South of England and the weather is not great for end of May.
As mentioned in a previous Tip of the Week, I found that one way to beat the problem of wet weather, once and for all, was to buy a massively oversized tarpaulin sheet (the type greatly favoured by market traders).
E.g. I would buy a 25ft x 25ft sheet to be used on my 12ft x 12ft bouncy castles. I would drape this over the top of the castle (regardless of whether or not it had an in-built shower cover) and then tie down the massively over-sized edges to anything suitable. The effect would be an awning at the front of the castle and also (to a lesser extent) at the sides and back of the castle.
This stopped rain-water coming in through the front and the sides. Also, it meant that the children could go from the house to the castle and remain largely dry.
To stop rain-water coming in via the blower and causing a "bubbling effect" on the bed of the castle, I used to place a plastic picnic table over the blower. This still allowed the blower to breathe, but it meant that rainwater did not get sucked through the vent and then into the inflatable.
It goes without saying that ALL electrics should be made fully WATERPROOF and trip-switch protected, and a risk-assessment carried out to ensure that there are no trip-hazards etc. caused by the oversized raincover and any cords used to tie it down.
Installing this over-sized rain-cover used to add an extra 10 minutes to the set-up time, but could make the difference between the customer cancelling and not cancelling.
Another big bonus -- At the end of the party, I did not have to deal with a soaking wet bouncy castle -- it would be mainly dry!
Also, during wet weather I used to hire out instant pop-up shelters or Gazebos to my bouncy castle customers. Typical hire charges would be £25 to £95 for the day.
When I combined the oversized rain-cover idea (mentioned above) with hiring out an instant pop-up shelter -- then it often saved the party!
However, if the forecast was strong winds (either on their own or in addition to rain) then I would cancel the inflatable and/or pop-up shelter.
(Aldi supermarket are currently selling good quality instant pop-up shelters for £59.99 each, approx. 10ft x 10ft. See the thread on the discussion forum yesterday)
Alternatively, you may just decide to wait for the weather to improve, advise the customer to book a community hall (or similar) if available, or postpone the booking to another day.
You can follow the discussion forum thread on this idea at: www.bouncycastleowner.com/members/forum/openthread.cfm?forum=1&ThreadID=6176