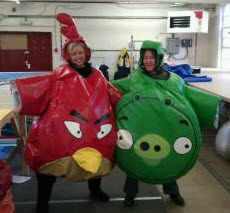 Stay ahead of your competition with a brand new Sumo Style wrestling game " Angry Birds". The Angry Birds App has been downloaded by millions upon millions of users worldwide and is one of the most successful and popular Apps of all time. People all over the world are going Angry Bird crazy. Our brand new suits bring the tradition of sumo wrestling with a right up-to-date twist.
Be amongst the first in the UK to own these and place your orders now. Special Launch price of £650.00 (adult and teen, £600.00 junior and infant) plus vat. A set includes, 1 x Angry Bird Suit, 1 x Pig suit, 2 helmets, 2 neck braces and 12ft x 12ft padded safety mat.
It is also with regret due to work commitments we will not be able to exhibit at INPAS this year (2012), However our very own roadshows will happen this year. Our first show will cover the South West and will be on the 2nd April 2012. I am also planning to visit Ireland at the end of March to make arrangements for our Irish show.
We are in desperate need for 2 more experienced machinists, with at least 3 years experience. Good working conditions, good salary and will be working with a very friendly and vastly experienced team. If anyone knows of such a person please let them know we are on the hunt.
Finally, we have very limited stock left. We have just a few animals, one small soft play box and one starter pack left. We are trying to add more castles soon and will be adding a new Princess Unit to stock in the next couple of days.