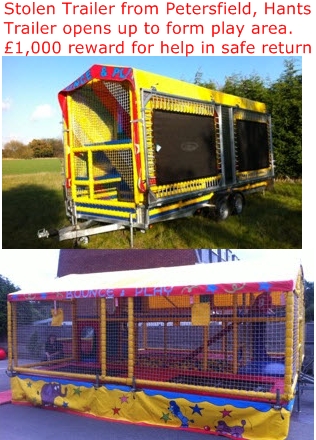 HELLO MARK
CAN YOU HELP BY PUTTING A EMAIL OUT STOLEN PLAY TRAILER TODAY BETWEEN MIDNIGHT AND 6AM PETERSFIELD HAMPSHIRE AREA .
ANY INFORMATION IN THE RECOVERY OF THIS ITEM REWARD FOR ANY INFORMATION PLEASE CONTACT JAY 07958 350889 01730 268791
REGARDS SARAH
Reference mobile play trailer stollen from our yard in milland sussex between midnight -6am 9th may 2013 Would have needed a large van or 4x4 to tow the unit , removed tractors and wheel clamps , need to drive very slow around 40 mph very unstable to tow .
This is a big part of our company which is now affecting us and our customers .
£1000 Reward for the return of the play trailer please contact jay 07958 350889 or Sussex police
The pic above is what it looks like when closed and towing