| | |
| --- | --- |
| home | Encourage your customers to hire out . . . | |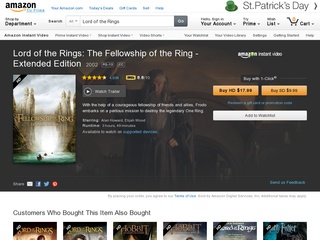 Encourage your customers to hire out additional products using a well-known technique that Amazon uses.
It's a well know fact that Amazon sells a lot more products (e.g. DVD's and books) than they would normally because at the bottom of each order page they have a list of RELATED products that they believe that the customer will be interested in buying based on various buying trends from previous customers.
E.g. In the above thumbnail screenshot of an Amazon Order Page you can see that a customer who buys "Lord of the Rings", also has an opportunity to order the "Hobbit" other films in the Trilogy and even "Harry Potter".
You can "borrow" this idea to increase your hire profits.
On the order page of your website have a section which says:
Customers who hired this item also hired an inflatable slide / sumo suits / assault course/ garden games/...or whatever...Have pictures underneath.
This just might encourage your customers to book ADDITIONAL items with you because they are not only reminded of these extra products that they can hire, at the point of purchase, but also there is a social proof element because other people hired them as well.
In addition, the actual words that Amazon uses "customers who bought this item also bought" (or similar) has shown to be extremely effective marketing.
I have never seen an inflatable hire company take advantage of this idea before.
If you decide to run with this profit idea, and it increases your hire profits - please post on the forum - thanks.