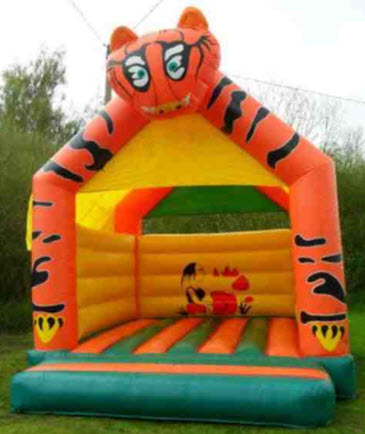 This bouncy castle was stolen in the Derbyshire area
TIGER BOUNCY CASTLE STOLEN - DERBYSHIRE (Between 18th and 20th August 2012)
(Posted on discussion forum) Hi, It's my first post and a painful one sometime over the last few days one of my castles a 14ft x 14ft tiger themed castle has been stolen from a garden in Riddings near Alfreton in Derbyshire, whilst I've been on holiday, the reason being that I hired to a local bouncy castle operator whilst for the duration of my holiday. The operator informed me that it was stolen between 18th and 20th August 2012.
It's all wry sketchy details the operator is giving me - it may well be a scam but just covering all bases as I'm still in Spain at the moment until Wednesday morning.
Castle details: 14ft x 14ft Gibbons blower 1.5hp Orange A frame with tiger head on front a yellow rain cover Green and orange bed with. Red PVC instead of webbing over the seams.
P.S. Police have been informed
If anyone has any info or help/advice on what I can do please let me know - my number is 07530 - 718263 (Matt).
Thank you.
Matt.