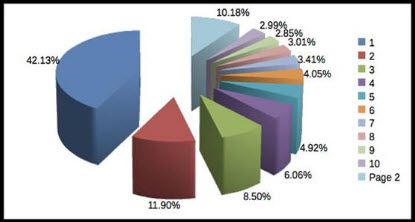 Even though this statistic is over two years old - it still boggles the mind. It is based upon the qSearch analysis of ComScore in November 2009. Google alone served over 9.5 BILLION seach requests (i.e. over 33 million searches per day).
The sooner your website is optimized for Google, the faster you'll stop losing potential customers and leads.
The pie chart above shows how vitally importantyour search engine ranking is (Especially in Google).
Astonishingly, LESS than 4% of people who search on Google will actually click on any of the links on page 2 or beyond.
In other words, if your business is not on page one of Google (for your keywords e.g. "bouncy castle hire + YOUR TOWN" then you could be losing over 96% of your potential customers!! Quite a sobering thought for any business owner!
Worse still, if your competitors are on page one of google - then they will be literally taking business away from you!
------------------------------------------------------------------------------
PLEASE NOTE: With the pie-chart above - the percentages indicate visitors clicking on links 1 through to 10 on page one of Google.