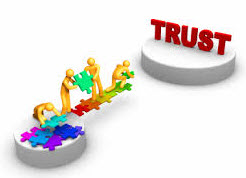 "35 Trust and credibility factors you can add to your inflatable hire business today to get more customers in 2014". (Version 2)
(ORIGINAL REPORT WRITTEN IN DECEMBER 2011).
I have been thinking of a really powerful profit-boosting tip that all members can benefit from for the start of the 2014 season.
This is what I have come up with, which I hope you really like.....Get your potential customers to TRUST you more BEFORE they contact you to make a booking or enquire about prices etc.
There are many different ways of doing this, and all it involves is adding a few words or some images to your website and to your business stationery (e.g letterheads and business cards) and your marketing materials such as flyers.
It amazes me how few members actually take advantage of these "TRUST FACTORS" which can have a huge positive psychological effect on your customers before they even contact you to book an inflatable!
I have made a list of what I consider to be the main 30+ "TRUST FACTORS". It is not an exhaustive list, and if you think of any which I have missed out, please mention them on the discussion forum on www.BouncyCastleOwner.com - Thanks.
TRUST AND CREDIBILITY FACTORS for inflatable hire companies:
1) Add testimonials and reviews (Use real people's names, addresses and photos if possible - not: Mrs. A from Manchester -- which looks like it's just made up! and your potential customers will see straight through it!) Video testimonials from genuine happy customers are the most powerful testimonials of all!
2) Mention when you launched your company, particularly if it was some years ago. E.g. Established 1995 or "Hiring bouncy castles continually since 2002", or "delighting children continually since 2006".
3) If you have been featured in your local newspaper or on TV mention this fact. Creates instant credibility!!
4) Mention on your website that you are a member of the BIHA. (Don't just add the BIHA logo shield) . Instead, actually let visitors know that you are a BIHA member. Official research has found that a whopping 94% of the general public feel more confident about contacting a company (e.g. an inflatable hire business) who is a member of a recognised industry trade body. (Source: MORI)
5) Include a photo of you and your staff or team on your website and marketing materials. (Creates a more personal feel. FACT: People buy people first BEFORE they buy products or services -- This is well worth remembering.)
Some companies have a page on their website dedicated to their team.
This might include a photo of each team member and a short bio about them.
It has been proven scientifically that if you have pictures of yourself on your website and other promotional materials - then customers and prospective customers will trust you more(be it a large team or a small husband and wife team - for example).
6) Include a short video of your inflatables on your website to an appealing soundtrack (and upload to YouTube) to wow your potential customers. (If you don't know how to do this, please post on the forum) To see an example of a video click on: http://youtu.be/0P0G13571kE Also, please look at the videos on the BIHA home page at: www.biha.org.uk
7) If true, mention that you have full public liability insurance for "peace of mind".
8) If true, mention that you have spare vans and spare drivers in case of emergency.
9) If true, mention that you have children of your own, so you realise the vital importance of reliability and punctuality.
10) If true, mention that you and your staff are fully CRB checked.
11) If true, mention that you are a family-run business.
12) If true, mention that there is no cancellation charge for wet or windy weather (Gives your prospective customers peace of mind).
13) If true, mention that your inflatables are PIPA registered (or RPII registered).
14) Give the FULL name and address of your business. This helps customers trust you more, and also Google will tend to rank you higher in their Places Listing for LOCAL searches. (I am aware that some members prefer to hide their address details for fear of theft. This is understandable but you need to be aware that Google may penalise your business and rank you in a lower position because it does not know precisely where you are based when someone searches for a "bouncy castle in their local town".)
15) Mention your "opening hours" for each day of the week. (Many members including highly experienced hire companies forget to do this. It builds trust, and also Google likes it!)
16) Give your prospective customers multiple points of contact (e.g. mobile, text, email, landline) All customers have their PREFERRED method of contact which may be different to yours!
17) If you are able to take PayPal and credit cards then display these symbols on your website and marketing materials. These logos have been proven to have an extremely high trust-factor when people see them. Experts on this subject even go as far as saying that when people see these logos it actually puts them in a "buying mood", because many people regard credit card money as not real money, but "funny money" or "monopoly money". E.g. the plastic pays for it! Also, credit card logos on your website adds professionalism to your business.
18) Have a Frequently Asked Questions (FAQ) page. Put your customers minds at rest by answering their most burning questions before or after they have spoken to you.
19) Include photos of your best inflatables preferably above the fold (I.e. in the top section of your website, before a visitor needs to scroll down). Some members forget to include this vital trust factor.
20) Include some scarcity. E.g. "In the summer we tend to get very busy, so please book your bouncy castle early to avoid disappointment."
21) Get a Facebook fan page, and also consider a Twitter, Google+1 account and Linked-In, and LINK them to your website. Google will reward you for having these, and should rank your website higher up in its listings. Also, your trust factor with customers and potential customers will go through the roof!
So it is worth doing!!
22) Add a weather forecast to your website.
23) Check your website has 2014 at the footer and other crucial areas. Some bouncy castle hire websites I've seen have "new inflatables for 2012" on them, or even worse - "new for 2010". This just might prevent a potential customer from calling you -- as they may think your website is stale and out of date!
24) Add a blog to your website -- Google will love it -- and rank you higher -- FACT!
25) If you don't yet have a website -- please get one!! Otherwise you are literally leaving money on the table. You build immediate trust and credibility in the eyes of potential customers when they can see pics of your inflatables and customer reviews etc. If you don't yet have a website the BIHA strongly recommend www.BouncyCastleNetwork.com , with basic search engine optimization (SEO) built in (to get you onto that all-important page 1 ranking in Google).
26) If you've attended an RPII Operators Training Course then tell your prospective customers!!! They may not have a clue as to what it is, but the fact that you have been on a formal training course adds credibility.
To find out when the next RPII Training Course is - please call Mike Kerr on 07968 - 417092 or info@ukbouncers.co.uk
27) If you hire out a fairly large number and variety of inflatables, then you should seriously consider investing in an online booking system. The BIHA strongly recommend Bouncy Castle Network ( www.bouncycastlenetwork.com ). Sometimes, a customer will be planning their child's party at 10pm (or later) when they have time after a busy day. They may feel uncomfortable about telephoning a hire company at that time. However, with an online booking system, they can book anytime they like - at their own convenience. This is a big Trust Factor!!
28) Check your website for spelling mistakes! This is a not a major issue, but if one of your potential customers sees a spelling mistake or two, it can appear unprofessional. They may think "Well if they can't take care of the spelling, then what guarantee do I have that they will take care of my booking!! Perhaps this is a bit extreme, but some people are very fussy about spelling, and expect people to get it right first time.
29) Put your prices up. (or alternatively have a higher price option e.g. an elite or super-deluxe price). If your prices are too low, especially if they are cheaper than your competitors - some potential customers may assume that your professionalism and quality of inflatables and service etc. is less.
30) Have a really great "About Us" page. An About Us page is a brilliant opportunity for you to give as much information as possible to help you get more customers. Include a photo of yourself and your team members. Mention why you started an inflatable hire business etc. Perhaps include a short video of you welcoming visitors to your website. (See point # 35 for more details on this)
31) Get high quality images of happy children, (especially where they are looking directly at the camera) and put them at the top of your marketing materials and your website - alongside photos of your best bouncy castle castles and inflatables.
One of the best places to find these images is istockphoto.com
A good pic may only cost you around £5 to £10, but you should make your money back almost immediately.
It has been scientifically demonstrated in many marketing tests worldwide, that people are naturally more interested in a product or service if they see happy smiling people surrounding that product or service.
Including these types of images on your promotional materials is another example of a Trust Factor.
32) Don't forget to have a Privacy Policy on your website. Google will give your site more trust and authority if you include a Privacy Policy. To find one, just Google it - and then adapt it to your own hire company.
33) You can also add a PayPal button (including Visa and Mastercard buttons) to your website in order to take deposits on inflatables via PayPal. This adds credibility to your website because virtually everyone is familiar with these payment symbols. (People even carry them in their wallets and purses)
34) Don't forget to also have a COOKIE POLICY page on your website - if your site stores cookies on your visitors' computers! In addition, Google will give your site extra trust and authority.
Here's an example of a Cookie Policy.
This website uses cookies -- These are not tasty biscuits but are small text files that are placed on your computer to help the site provide a better user experience. In general, cookies are used to retain user preferences, store information for things like shopping carts, and provide anonymised tracking data to third party applications like Google Analytics. As a rule, cookies will make your browsing experience better. However, you may prefer to disable cookies on this site and on others. The most effective way to do this is to disable cookies in your browser. We suggest consulting the Help section of your browser or taking a look at the About Cookies website which offers guidance for all modern browsers.
Please also look at: http://www.aboutcookies.org for more info. about cookies and your legal obligations.
35) Get a 1-minute video of you welcoming visitors to your website and watch your bookings increase!!
If you want to get more bookings, then it is very important to have videos on your website. This could be a video of your inflatables in action, or even better a video of some of your customers talking in front of your inflatables about how good your bouncy castle hire business is!!
Video testimonials are an extremely powerful way to convince new customers to do business with you.
HOWEVER, there is another more simpler way to use video, and that is to film YOURSELF talking in front of one of your best inflatables about your business, and how it can benefit your potential customers.
Then upload it to YouTube. Modern smart-phones makes this very easy to do.
If done reasonably well, it doesn't have to be a Hollywood blockbuster! - then there are THREE big benefits to your hire business.
1) Google owns YouTube, and if it finds relevant YouTube video on your website, then it will tend to rank your website higher (Everything else being equal)
2) When your potential customers see a short video of yourself welcoming them to your website - they will feel that they "know you a bit" and hopefully like you... BEFORE they have even picked up the phone or booked you online.
If you come across as being friendly and likeable, then potential customers and clients will want to do business with you, and this may persuade them to choose your company as opposed to one of your competitors!!
In true Blue Peter style, here's an example of a short video which I made for a BIHA member two weeks ago at a recent Trade Show I exhibited at....
http://www.youtube.com/watch?v=zqfV3AcLEdI
This was not rehearsed, and took all of about one minute to film with my flip camera, which is the same size as my iPhone!
Uploading it to YouTube took about 5 minutes.
Once you have your video uploaded onto YouTube, then you can get the embedded code which looks like this
And then simply pass it onto your web design person for uploading onto your website, or do it yourself if you know how.
A good place to put your video would be on your home page (above the fold) and in your "About Us" page.
If you are too shy to get behind a flip video camera or smart phone, then get someone else to do it!!
I've even heard of people who use local celebrities to promote their businesses in a short video.
This idea can really skyrocket your business - but you don't need a celebrity or other person to present your business to your area - You are the best person to do this - because you are the business owner!
3) The third benefit of using video is actually an indirect benefit. Google continuously monitors how long your visitors stay on your website. If they only stay for 3 seconds and then click out to visit one of your competitor's websites - then Google will think that your site is not giving a good user experience and will tend to rank you lower (Again, everything else being equal).
This is called "bounce-rate". This is nothing to do with inflatables!
Therefore, anything that can be added to your website to encourage visitors to stay longer on it, is a very good thing.
If you add a video of you welcoming visitors to your hire business and that video lasts one minute, and the visitor watches the entire video then Google will see that as being very good (i.e. a low "bounce rate") and will tend to rank your site higher in it's rankings.
www.bouncycastleowner.com/members/forum/openthread.cfm?forum=1&ThreadId=6000
If you want help with this, or are just completely stuck, please reply on this thread, and I will do my very best to help.
----------------------------------------------------------------
If you can think of any more "trust and credibility factors" please reply to me directly or post on the discussion forum on www.BouncyCastleOwner.com - Thanks.
If you don't understand any of the above (e.g. how to add a weather forecast or a blog to your website) -- please email me, and I will do my best to help you.
I don't necessarily recommend that you add all the above "TRUST FACTORS" to your website, and other marketing material, but the more you can genuinely mention then the more will your potential customers trust you. And human nature being what it is, if they trust you, they are much more likely to book with you -- even though you may not necessarily be the cheapest hire company in your area. Try these various ideas above (or some of them) and see what happens! If your profits skyrocket in 2014 -- please let us all know on the forum.
If you need help getting more bookings for 2014, please post on the discussion forum.
------------------------------------------------------------------
Please note that this report was updated on 17th October 2013 for the 2014 season.