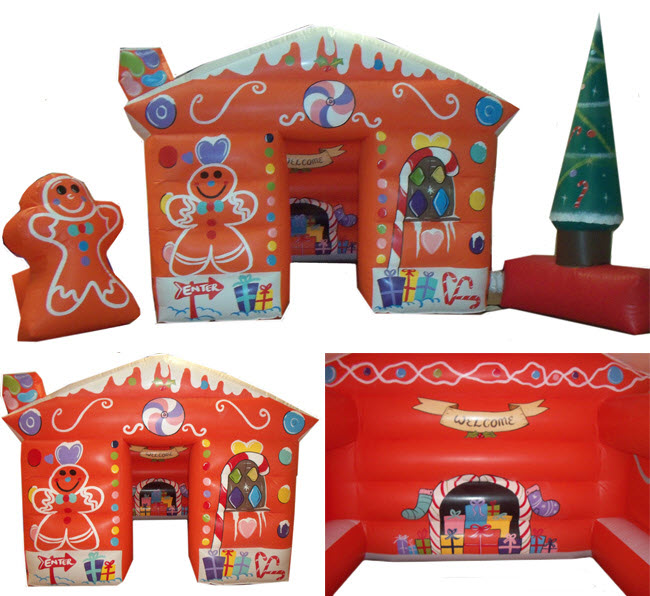 Hi everyone,
When I hear of hire products which have high demand in the winter, I always sit up and take notice!
Below are details of an unusual inflatable hire product that can be used not just at Christmas, but pretty much all year round as well.
In addition, it can be used for lucrative photo opportunities for your customers and their children.
Also, if you have ever wanted to enter the high-paying world of corporate inflatable hire (including shopping centers, large shops, department stores etc.) - this just might be your big break.
PRESS RELEASE for the Ginger Bread Grotto.
Pineapple Leisure are proud to be adding to their grotto range this year with a brand new GINGER BREAD GROTTO.
The inflatable gingerbread grotto has already proved a big hit with the kids when it was displayed for the first time last Saturday.
The inflatable gingerbread grotto is decorated with beautiful, captivating artwork with smiling gingerbread men, candy canes, colourful sweets and lavish amounts of white icing!
This grotto creates a magical venue, which can be set up within just 5 minutes. The Gingerbread grotto provides endless photo opportunities either inside by the fireplace stacked with presents or outside the cute doorway amongst the sweetie treats that adorn the entrance.
The gingerbread grotto measures 18' across x 12' deep, with the side attachments that feature a gingerbread on one side and a decorative Christmas tree on the other side. The cost with attachments is £995 and without them is £795. Without attachments the gingerbread grotto measures 12' x 12'. Prices plus VAT and delivery. Orders are now being taken.
We also have a brand new design of a traditional style inflatable grotto which we have launched for Christmas this year. The range stars from £399 + VAT Visit http://www.bouncycastlesales.com/xmas.html to view.
You can see a short video at: http://www.bouncycastlesales.com/xmas_video.html