| | |
| --- | --- |
| home | An excellent (and unusual!) hire pro . . . | |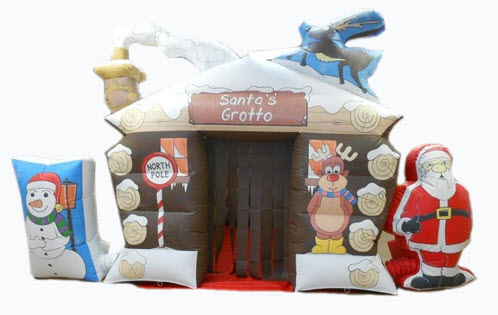 An excellent (and unusual!) hire product for December.
Now we're at the end of the busy summer season, many hire companies are turning their attention to the next main busy part of the year which is December. Many people hire out inflatables in halls for Christmas parties. However, there is now a brand new inflatable hire product that is perfect for December - A Santas Grotto!!
PRESS RELEASE www.pineappleleisure.com are offering you the chance to either;
* Buy one of these fabulous Santa's Grottos from £479 + VAT or * Buy one of our super Christmas Inflatables or * Earn 20% Commission for successful referrals for Grotto bookings that you pass through to Pineapple Leisure.
Pineapple Leisure will pay the 20% commission for every booking that is made with them from a referral. For example on a standard £1500 hire, £300 is paid in referral commission. (Invoices will be shown to confirm order total). Any company wishing to get involved can simply e-mail info@pineappleleisure.com or telephone 01952 585859 and we will set this up, providing pictures from our website www.hireasantasgrotto.co.uk that can be added to hirers websites in order for them to promote the Christmas inflatables. This is a great way of increasing income without having to pay for any stock!
If you want to enter this lucrative Christmas Hire market see our BIHA members special offer is below.
NORMALLY £1095 with fan
BIHA MEMBER SPECIAL OFFER PRICE £879 with fan
Prices are plus VAT
See www.pineappleleisure.com for more details
Another special offer for BIHA Members:
NORMALLY £995 BIHA MEMBER SPECIAL OFFER PRICE £699 Prices are plus VAT Offers End 30th September
FINALLY......... New Finance Facility available. Should you be looking to purchase any inflatables Pineapple are pleased to offer finance options. Subject to status, full details provided.
Press Release from Pineapple Leisure Ltd
01952 585859
Quote BIHA Member Sept Special
Replace this text with a few paragraphs of text to describe the purpose or goal of this department.
In most cases, three to five short paragraphs is usually enough to get the point across.
Feel free to include html commands and links within this area.