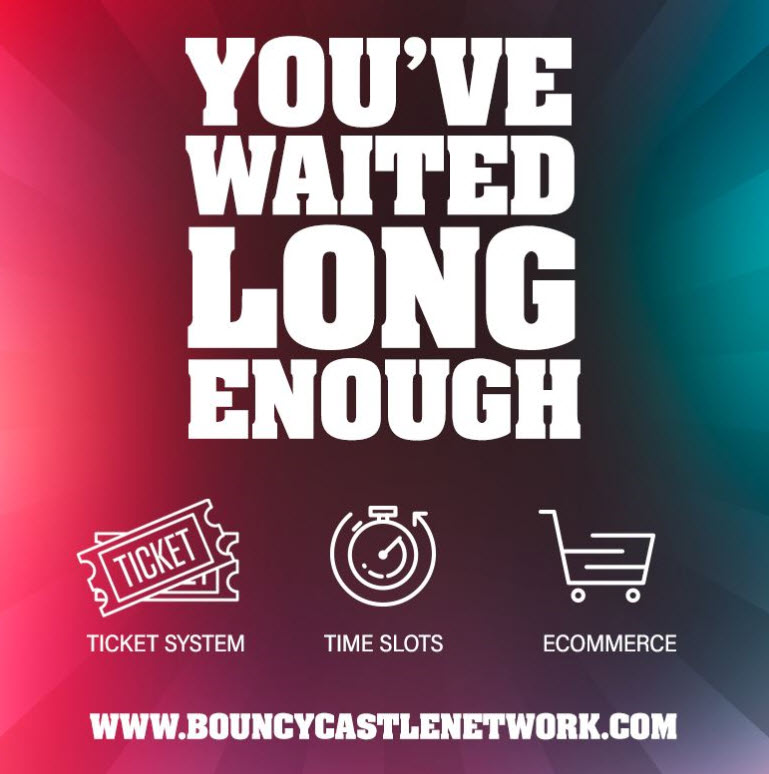 TICKETING <+> TIME SLOTS <+> ECOMMERCE!
----------------------------------------------------------------------
Another BCN World's first, we are proud to announce the release of our latest system update.
Our customers have been asking for tickets for a LONG time, and although we have been providing ticket solutions to some of our BCN customers, our more comprehensive ticket solutions have been used by the likes of the British Ski Academy since 2015, and ecommerce solutions for some of the largest inflatables manufacturers (and businesses) in the UK.
Bouncy Castle Network have invested in our team, our technology and in our customers success for over a decade, releasing game changing tools at no extra cost to our customers and this project was no different.
So in order to create the correct solution for our customers (and not just fob you off with a drop down menu and charge you for the privilege) we decided to craft a BRAND NEW solution that isn't single faceted BUT works across our system and modules, giving you the scope for launching new ideas that will help your businesses generate even more profits ALL YEAR AROUND.
The BCN system now includes a proper TICKET solution, TIME SLOTS, ECOMMERCE and QUANTITIES all working within our industry leading Booking and Diary Management System…. And that's just the beginning, there is MUCH more to come very soon!
?? Ticket Orders (FREE UPGRADE)
-----------------------------------------------------
Take ticket orders through your site without the crippling fees paid to third party solutions, giving you the ability to create party events and sell tickets easily all within the BCN platform.
?? Time Slot System (FREE UPGRADE)
-----------------------------------------------------
Simple, flexible interface for creating bespoke 'time slots' that works with our packages and tickets system. Perfect for Mascot hirers, Mobile DJ's, Children's Entertainers, Stay and Play centres and Party Events.
?? Ecommerce System (£50 set up fee)
-----------------------------------------------------
Sell your products through a basket system on your site giving you new avenues to generate income, and with our amazing payment processing rates by Worldpay, you can really take your business to the next level.
Although the updates available to everyone, not all of these features are required by everyone so if you do require the above upgrades - there are some system checks that we must make to your site first - especially if your business hires out 'Packages'.
Drop an email to help@bookingonline.co.uk and let's get you upgraded to the World's most comprehensive bouncy castle hire system.