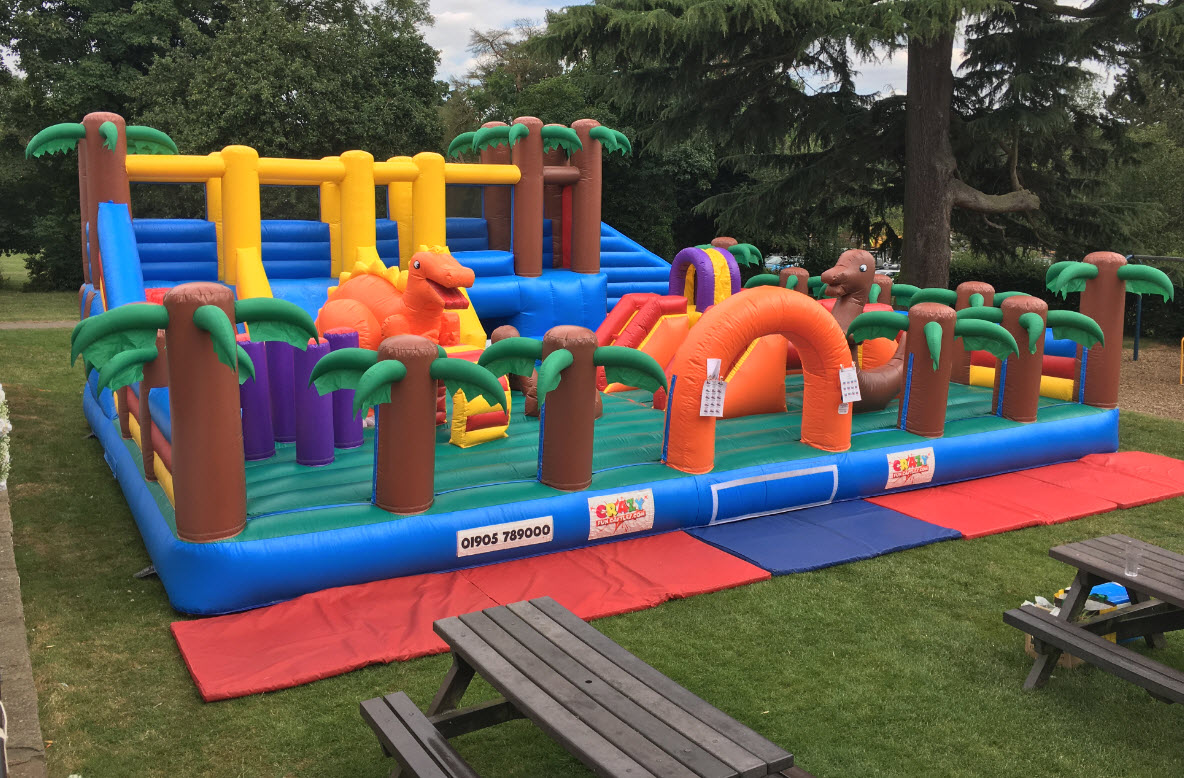 STOLEN VAN & INFLATABLES - A BIHA member has just phoned and emailed me to report the theft of his van which was loaded up with his inflatables from outside his home in Droitwich, WORCESTERSHIRE.....Dear Mark,
Please find attached details as requested earlier today.
Around 8am/9am, on Thursday 2nd August 2018, CrazyFunCastles.com had a White Ford Transit High Top Long Wheel Base van BJ10 BPV stolen. It had no signage to indicate it belonged to a bouncy castle business. It, also, had a stop-lock secured to the steering wheel, was deadlocked and no glass was left on the road.
We had loaded the van ready for Thursday through to our normal Sunday operations. We cannot give a full list of what equipment has been taken, but the key items are as below and as the following photos.
PiPA tag 30857 Dome Playground 6.4mx6.4mx4.8m Has large orange sphere with (FUN FUN FUN) written in large yellow letters;
PiPA tag 30858 Music themed bouncy castle 4.9mx4mx3m Has (MUSIC) written in large colourful letters and is brightly coloured;
PiPA tag 30859 Sea and Dragon themed playground 9.8mx6.2mx3.3m Has dragon above front slide and sea monster in the rear ship shaped object;
PiPA tag 30865 Fire Engine themed slide and bounce 10mx3.4mx5.5m Tall slide with bouncy front and shaped like a fire engine;
PiPA tag 35125 Dino themed playground 7.2mx9.6mx3.2m Has various obstacles, dinos, elephant and slides with palm trees all round.
As you are aware, these units are unique and been modified to comply to BS EN 14690 guidance. They do stand out and we have notified PiPA with the relevant tag details.
A number of 2hp black/yellow 1500watt blowers, crash mats, white fire retardant groundsheets, cabling, pegs, grey IP66 cable boxes, fencing and beam trolley, four wheeled black trolley and red sack truck were taken too.
Although we must pay out our insurance excesses, we would like to offer £200 to the person who provides the details that lead to recovery and conviction(s).
CrazyFunCastles.com Limited would like to say a big thank you to all companies, and individuals, who take the time to read this email/information and look out for the stolen items.
? Info@CrazyFunCastles.com
FB CrazyFunCastles Chosen By children